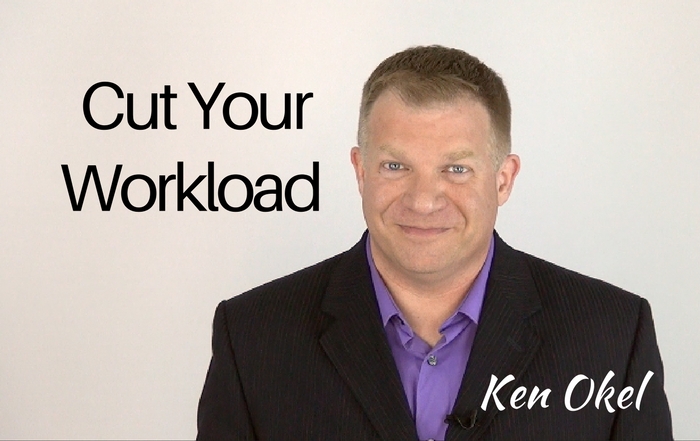 Are you comfortable asking your boss to cut your workload? It may feel like a sign of weakness to say that you're becoming overwhelmed. Still, you're frustrated because the quality of your work is suffering.
If you're a supervisor, how do you feel knowing that some of your team members are miserable on the job because of a growing workload but won't talk to you about it. What if you could reset the situation?
In this episode of our ongoing productivity tips for leaders series, you'll both learn why it is so important to periodically communicate about workloads and make adjustments. This simple process, to cut your workload, can be a golden ticket to better productivity.
Ken Okel's Productivity at Work video series is designed to make you more effective on the job. Every week, you'll learn a new, easy to understand tip that you can use right away.
What Productivity Questions Does This Video Answer?
How do I cut my workload?
How do I find out if I'm giving my employees too much work?
How can I talk to my boss about my job?
How can I be a better supervisor?
Video Transcript
You can communicate your way to better productivity. Here's how. Last time we talked about how there's a common habit where you take your top performers and you treat them like balloons. Where you keep giving them task after task, inflating them to the point where you get declining productivity or they just walk out the door.
You don't want that to happen. What I suggest is you periodically get together with the members of your team to talk about their workload. See if they are able to handle it all or if they're having to do a lot of coming in early, staying late, working in the evening, working on the weekends.
That's not necessarily good long-term solutions. You want to make sure, if they do have too many things, that you have the ability to take something off their plate, delegate it to someone else, or say, "You know what? We're either going to get some help with this in terms of automation or just take off the plate entirely. Don't worry about it this month."
The employee usually don't think think that this is possible. So they're suffering in silence, not telling you, "Hey, I can't get all of this stuff done in my normal time and it's causing me a problem.
You don't want to do that so I really suggest that people, invest the time to communicate with one another. This isn't a complaint session. It's a legitimate, truthful discussion about a workload. Give it a try.
About Ken Okel
Ken Okel works with leaders and organizations to boost productivity, performance, and profits. At conferences, conventions, and company meetings, he engages audiences with new ways to maximize their time at work. Sometimes you may cut your workload. To see a sample of his keynote and workshop presentations, visit: http://kenokel.com/video.html.